Trumpets That Work

Sorry, trumpet fans ... there is no 2017 Calendar. But look for the Trumpets That Work book, which will be available for Christmas 2017.
Thanks for your interest in the 2017 calendar. I am so glad you appreciate all of the work I have done to create the trumpet calendars to date. I am not producing a 2017 calendar, but that is so I can devote more time to compiling and expanding all of the previous calendars into a book that (if all goes well) will be available for purchase in time for Christmas of 2017!
What will be in the book?
This will be a beautiful full color coffee table style book that will contain additional trumpets not featured to date. It will also have some additional chapters about trumpet design history, trumpet playing physics, and other trumpet related histories of players, genres and specific manufacturers.
How can I order the new book?
Bookmark this site and check back in the fall of 2017 to find out where to purchase the book!
John Hagstrom
Second Trumpet
Chicago Symphony Orchestra
The 2013, 2014, 2015 and 2016 calendars are still available through Hal Leonard. Although not very useful as calendars, you can frame your favorite 14" by 10" photos with descriptions and hang them on the wall or give them as gifts.
Use the links below for details and ordering information for calendars from previous years:
2013 Trumpets That Work Calendar
2014 Trumpets That Work Calendar
2015 Trumpets That Work Calendar
Details of 2016 calendar are on this page.
Order the 2016 Trumpets That Work Calendar from Hal Leonard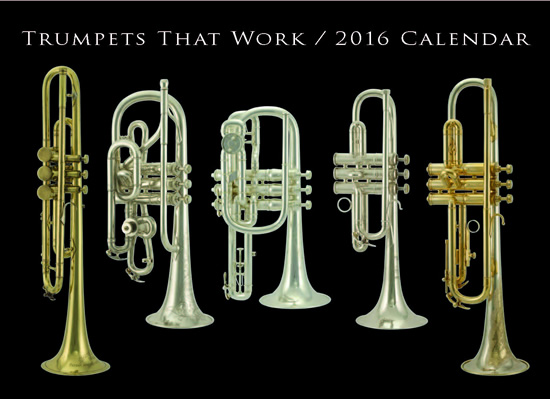 January
C.G. Conn Trumpet in Bb/A
This New Era model was played by Louis Armstrong
February
Domenick Calicchio Trumpet in Bb
Played by Gary Grant on the #1 recording of all time—Michael Jackson's Thriller
March
E.A. Couturier Cornet in Bb/A
Extremely rare "Direct Mouthpipe" design
April
Vincent Bach Trumpet in C
Played by Adolph Herseth in the Chicago Symphony Orchestra
May
F.A. Reynolds Trumpet in Bb
This early model has a sterling silver bell
June
Vincent Bach Trumpet in Eb/D
Played in the Chicago Symphony Orchestra by William Scarlett
July
Vincent Bach Trumpet in C
Played by Frank Kaderabek in the Philadelphia Orchestra, the Detroit Symphony and the Chicago Symphony
August
Martin Cornet in C
Played by Adolph Herseth in the Chicago Symphony Orchestra
September
F.E. Olds Trumpet in Bb/A
This "Military Model" was one of Olds' first trumpet designs
October
Z.A. Meredith Cornet in Bb/A
This "Open Tone" design is unlike any other
November
David Monette Trumpet in C
Played by Adolph Herseth in the Chicago Symphony Orchestra
December
Vincent Bach Trumpet in Eb/D
Played by Samuel Krauss in the St. Louis Symphony and the Philadelphia Orchestra
January 2015
Johann Sattler Trumpet in Bb
This TARV valve design was patented in 1938
>
Questions? Email info@TrumpetMultimedia.com